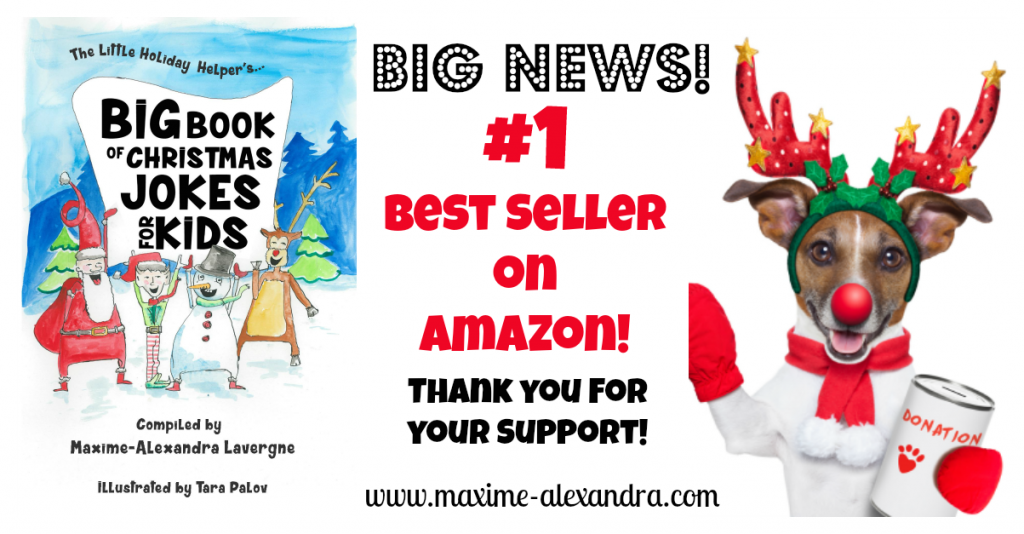 Hi everyone!
This is Cheryl, Maxime-Alexandra's mom. I hope you don't mind me stepping in on her behalf again. She is busy finishing up her Christmas cards for her grandparents, and I wanted to share this news with you all right away!
Thanks to all of your support, The Little Holiday Helper's Big Book of Christmas Jokes for Kids has hit the best seller list on Amazon Kindle! Now it has been bouncing around a bit so may not be #1 when you view this link but if you want to take a look, here it is! Of course, the more purchases and reviews she receives, the longer she can stay in such a high visibility position, so be sure to leave a review if you do purchase either a Kindle or a paperback.
She likely won't stay there for long given that people won't be looking to buy Christmas books for another 10 months or so, but what fun it is to see it there now! And the fact that she has hit the top 10 and top 100 Best Seller lists on multiple categories is also very exciting!
Oh and just to update you on her future plans, she was busy working yesterday on her next book, which she is very excited about! It should be published in the next few weeks…we will keep you updated along the way!
Thank you all once again for your support. We hope you have enjoyed the book, as well as the knowledge that a portion of the monies are going to some great charities to support children and animals!
Oh and if you haven't purchased The Little Holiday Helper's Big Book of Christmas Jokes for Kids yet, you should!  🙂 And if you like it, please leave a review on Amazon!